Online Ordering for Hanrox Free Range Products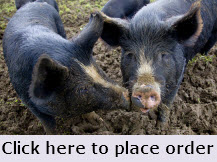 Online ordering is now available for our free range pork. Other products will be added as they become available.
You will be required to pay a deposit of GBP 20.00 before your order can be confirmed.
On successfully placing your order, you will be transfered to a page detailing your order and available options to pay your deposit.
Once your deposit has been received, you will receive an email confirming your order. The email will also contain a link for you to print off an invoice if required. Please make sure you have entered your email address correctly on the order form.
You can make any comments regarding your order on the order form at time of placing your order. This can include any special promotion you may have seen